As a business owner, it's important to have a sales strategy that unifies all of your channels – from ecommerce to brick-and-mortar stores. However, effective channel unification is easier said than done.
Fortunately, the process isn't hard if you follow a few basic steps. By taking the time to unify all of your sales channels, you'll be able to provide a better customer experience, improve communication between your team members, and boost your bottom line.
In this post, we'll explain why you might want to unify your sales channels, and show you how to do so. Let's get started!
Why It's Smart to Unify Your Sales Channels
When a company unifies its sales channels, this means that it has combined all of its sales operations into a single entity. This can be done in a number of ways, but the most common option is to have a website or storefront where customers can buy products or services, which serves as the hub for all other sales and marketing efforts.
The first benefit is, that this makes the buying process simpler for customers. Instead of having to visit multiple websites or deal with various customer service representatives, customers can go to a single place to make all of their purchases and get questions answered. This also makes it easier for them to keep track of orders and returns.
Another benefit is, that it allows you to better control your marketing and branding efforts. By having a dedicated website that everything else points back to, the company can ensure that its branding is consistent across all channels.
It can also better target its marketing efforts, since it can track which products are being sold through what channels.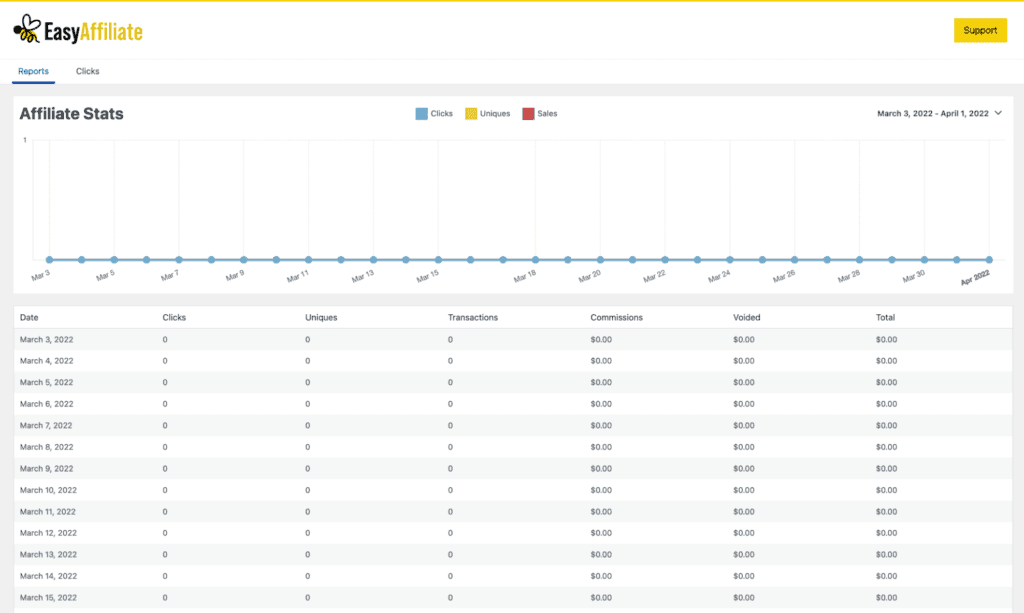 Finally, unifying your sales channels can help you improve your efficiency. You'll be able to streamline your processes and reduce the amount of time and money you spend on sales. This can be especially helpful if you run a small business, since you may not have the resources to maintain multiple sales channels effectively.
4 Easy Steps for Unifying All of Your Sales Channels
When it comes to sales and marketing, inconsistency is the enemy. Whether you're selling online or in a physical store, you need to make sure that your messaging and campaigns are coherent and consistent across all platforms.
The following 4 steps will help you do that.
Step 1: Connect Your Online and Physical Storefronts
One way to unify your sales channels is to manage and market your physical and online stores simultaneously. This will ensure that all customers are aware of both stores, and that inventory and prices are the same between the two.
There are various technologies you can use to link your storefronts together. For example, you might choose a point of sale (POS) system that can track inventory and sales across both your online and physical stores.
This will help you manage stock levels and pricing in both, and ensure that customers have a consistent experience when shopping with you.
Step 2: Take Advantage of Local Marketing and SEO
Advertising your business too broadly can be risky, since it can lead you to waste resources attracting the wrong potential customers. If you have a brick-and-mortar store, it's important to unify your sales channels around a local marketing and SEO strategy.
When it comes to local marketing, one of the most important things you can do is make sure your website is properly optimized for your area. This means including keywords and phrases that people in your area are likely to use when searching for a business like yours: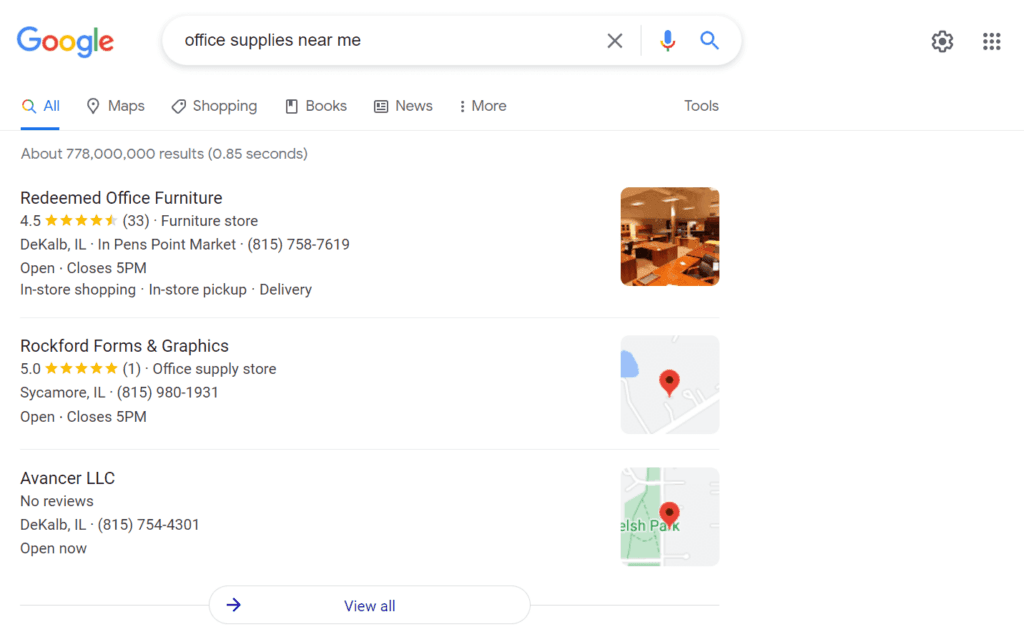 You can also improve your website's ranking and SEO by creating local pages. These are pages on your site specifically designed to target people in a certain area, and can serve as landing pages to bring potential local customers into your conversion funnel.
Step 3: Link Your Ecommerce Store to External Vendors
Where ecommerce is concerned, there are a few different ways to streamline your sales channels. You can link your ecommerce store directly to vendors, or use a fulfillment service to manage your inventory and shipping.
Each option has its own advantages and disadvantages.
Linking your ecommerce store directly to vendors can be a great way to unify all of your sales channels. This approach can be especially useful if you sell products that are only available from a few select vendors.
By linking your store to those vendors, you ensure that customers can find and buy your products no matter where they are shopping online.
If you focus on affiliate marketing or offer your own products along with affiliate recommendations, you can use our own Easy Affiliate plugin:

This tool helps you create an affiliate marketing program that integrates seamlessly with your WooCommerce or Easy Digital Downloads store. That way, you can manage all of your sales and commissions in one place.
Step 4: Focus on Consistent Design and Brand Messaging
In order to create a strong sales strategy, it's important to create a consistent design and brand messaging across all of your sales channels. This will help ensure that your customers have a cohesive experience regardless of how they interact with your company. It can also help to make your brand more memorable and credible.
There are a number of different ways to achieve consistency in your branding, but the most important thing is to be deliberate about it. Make sure that everyone who is involved in creating or managing your branding – from your marketing team to your customer service representatives – understands the guidelines and is following them vigilantly.
The best way to do that is to create a brand style guide. This is where you'll outline all of the elements that need to be consistent, such as your preferred colors and fonts, your logo and other key visuals, and your tone and brand personality.
Your style guide doesn't need to be fancy, just comprehensive so that anyone creating content for any of your channels has all the information they require in one place.
Conclusion
Achieving success in today's marketplace requires a coordinated and cohesive sales strategy that spans both digital and physical channels.
The best way to ensure success is to create a single, unified campaign that is coherent and consistent across all platforms.
To do this, you can:
Connect your online and physical storefronts.
Take advantage of local marketing and SEO.
Link your ecommerce store to external vendors.
Focus on consistent design and brand messaging.
Have you had success marketing online and in-store simultaneously? Share your experiences in the comments section below!
If you liked this article, follow us on Twitter, Facebook, Pinterest, and LinkedIn. And don't forget to subscribe to our newsletter!
The post 4 Easy Steps for Unifying All Your Sales Channels first appeared on Easy Affiliate.
"REVEALED! Top Secret Sales Methods Exposed to Help You Cash in on the Power of the Web!"
Do you know how to profit online? Read these 365 Sales Methods From Top to Bottom and See Your Sales Explode.
If you need and want success in your online business, you must sell tons of products. Regardless of the service product you have to know how to do this.

Many entrepreneurs who are newbies don't know the proper way to sell.  That's why they fail.
Do you want to be a part of this group?  I didn't think so.
Not only will the tips I'm about to give you work online they'll work offline as well.
Yes, the economy has an effect, but when things slow down in your business along with sales, you can fix this problem. Follow the simple tips I will give you and watch your business work.

If you're willing to spend some time and put honest effort in you'll have one tip to succeed every day for an entire year. With some honest attention to sales and your business, how can you not succeed?
We've put together a massive package of 365 methods that will help you cash in on your business efforts.
What's Inside This Guide?
Inside, you will find one tip for every day of the year. They're well hidden techniques and strategies that will help you bring sales and cash into your pocket. Not only will you be able to learn if you're a newbie, you'll be able to expand your online business if you're a somewhat seasoned online marketer.
So, that means no matter what level of knowledge you have, whether you have some or none, you'll benefit from the report.
A sneak peak at what's in it:
Using Social Media sites to explode your traffic and get more attention to what you have to offer
Selecting the perfect keywords for your niche that get results no matter what you are selling
How to not give up no matter how frustrated you are. Keep your willpower and determination sky high.
Manage time to make room for success
Create headlines that will guarantee an increase in your click thru rate
How to manage a team that works for you and with you
Changing your way of thinking to open the door to success
How to work with your customers and build a positive image to keep them coming back
Marketing tactics that will get you a higher search engine rank and also increase traffic
What you should do to pull in a customer
Building trust with potential buyers so they feel safe and secure
How to grab a lead's attention and interest to get the prospect to buy
Know the personal qualities you need to knock make a sale and knock the prospects socks off
Tips on market research to target the right market for your product or service
What you shouldn't do when you want to make a sale
Having a proper attitude when it comes to business and doing business with others
Tactics that will help develop other business relationships that you can profit from
Self-improvement tactics to program your mind for positive results
Business ethics that will result in a high approval rate and recommendations
Suggestions on how you can expand through affiliates
How you should speak to potential customers and how you shouldn't
Whats included
365 Power Sale Tactics Business Ebook
Squeeze Page
Sales Letter
Reseller Rights
Let's face it – at some point in time, you have pondered on having your own business and becoming your own boss.
That business most likely is selling goods, and with companies like eBay, Amazon, and Shopify offering ways and services on how to easily sell stuff online, you won't even need a physical store to sell goods. You can do business right from the comfort of your own home, at the click of a mouse and a few keystrokes.
Sounds really nice, right?
The problem is, you don't know where you can get a supply of the stuff that you're going to sell. Or if you do, most likely the supplier's prices isn't low enough that you can make a good profit from it once you sell it.
So why go ahead and be an online entrepreneur when you won't be able to get big profits from sales? That is if you even manage to get a steady supply of goods to sell to begin with?
Then there's Alibaba. I guess you've heard about this site already.
If not, then let me tell you – there is a lot of stuff being sold at incredibly low prices at Alibaba, and there are a lot of sellers to choose from.
Now you have a solution to your earlier dilemmas. With Alibaba, it's possible to have a steady stream of goods at low prices.
Before you get all excited and go to Alibaba's website, let me tell you that most of the products from Alibaba are from China, and most of the sellers are Asians.
I guess the question in your mind now is – where do you start with Alibaba?
How does one deal with Asian suppliers? How about the language barrier?
Sounds like there's a lot of hard work to be done and you're not even sure if you'll be successful in the end…
If only there's a way or something to guide you on successfully using Alibaba and dealing with Asian suppliers.
Luckily for you, the answer is YES.