How to Make an Affiliate Marketing Landing Page with WordPress
Are you struggling to take your affiliate marketing business from a side hustle to a profitable online venture? Affiliate marketing is fiercely competitive. It can be challenging to set yourself apart and ensure your affiliate links generate sufficient traffic.
However, an affiliate marketing landing page gives you a dedicated space to promote products. A clear, compelling Call to Action (CTA) can target a specific audience and drive more conversions. Fortunately, we've developed an easy three-step guide to creating a high-converting landing page with WordPress!
In this post, we'll look at what an affiliate landing page is before guiding you through setting one up yourself. Let's get started!
An Introduction to Affiliate Marketing Landing Pages
An affiliate marketing landing page is a space that inspires action on your website. A visitor might arrive on a landing page through a link from social media, emails, or an organic (or paid) search result. Landing pages are designed with a single goal in mind, so it should be clear what the user should do.
For example, this landing page showcases product deals and uses affiliate links that direct readers to make purchases from Amazon: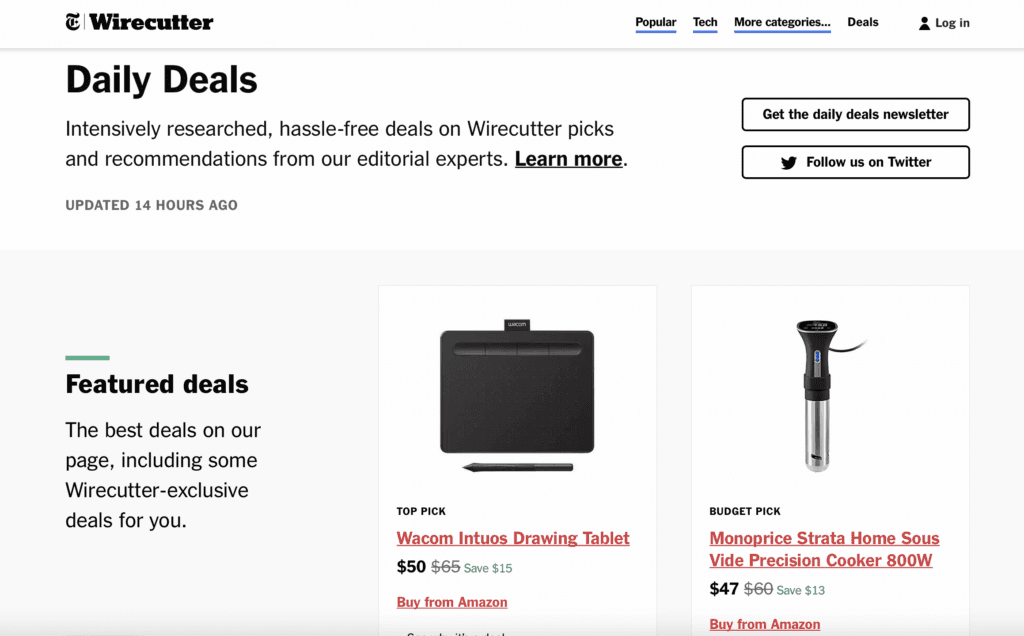 There are three main formats that your affiliate marketing landing page might take:
Blog posts: Product reviews or roundups can showcase your affiliate products and provide valuable information to your readers. This approach works best for affiliates who have established themselves as authorities within their niches.
A dedicated landing page: A simple page created for a single campaign. It provides a space to display your affiliate products clearly, with direct links navigating to third-party sites.
An Affiliate Marketing Funnel (AMF) page: A landing page that encourages visitors to provide their email addresses in exchange for a lead magnet, such as an e-book or webinar. You can then include affiliate links within the content sent straight to your visitors' inboxes. An AMF is a warmer selling technique, and it can be helpful when recommending high-ticket products.
Our Thirsty Affiliates plugin can help you cloak and shorten your links to make them more attractive to your readers. You can even auto-link your products to keywords in your website content and track their performance from your WordPress dashboard.
How to Create an Affiliate Marketing Landing Page (In 3 Steps)
In our tutorial, we'll be working with the Elementor plugin. This powerful page-building tool can speed up the design process and help you create an attractive and professional affiliate marketing landing page: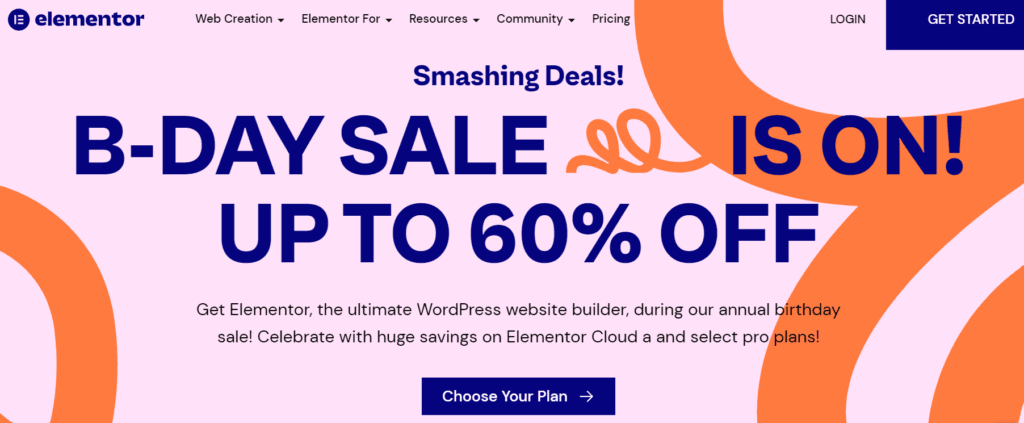 Elementor offers a free tool, or you can upgrade to the Pro version, unlocking full access to designs and widgets. You'll just need to install and activate the plugin in WordPress before beginning this tutorial.
Step 1: Build an Affiliate Marketing Landing Page with Elements and Blocks
Elementor comes with hundreds of page templates to help you quickly build your landing page. However, we'll show you how to make one from scratch.
To start with, you should see a blank canvas editor screen like the one below: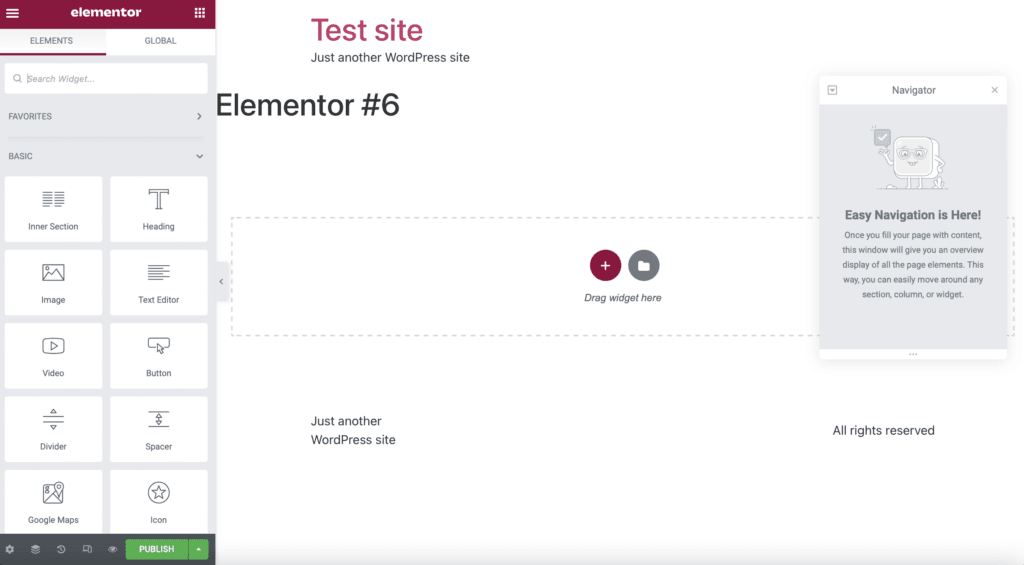 On the left side of the screen, there's a list of elements you can use to build your page, such as Headings, Images, and Buttons. Simply select the elements you'd like to use, and drag them into the center of your screen.
You can also build your landing page using blocks. Rather than manually constructing a section using individual elements, you can select a pre-designed block to give your page a sleek, stylish look.
To get started with blocks, click on Add Template. This will take you to a block gallery including testimonials, About Me sections, and CTAs: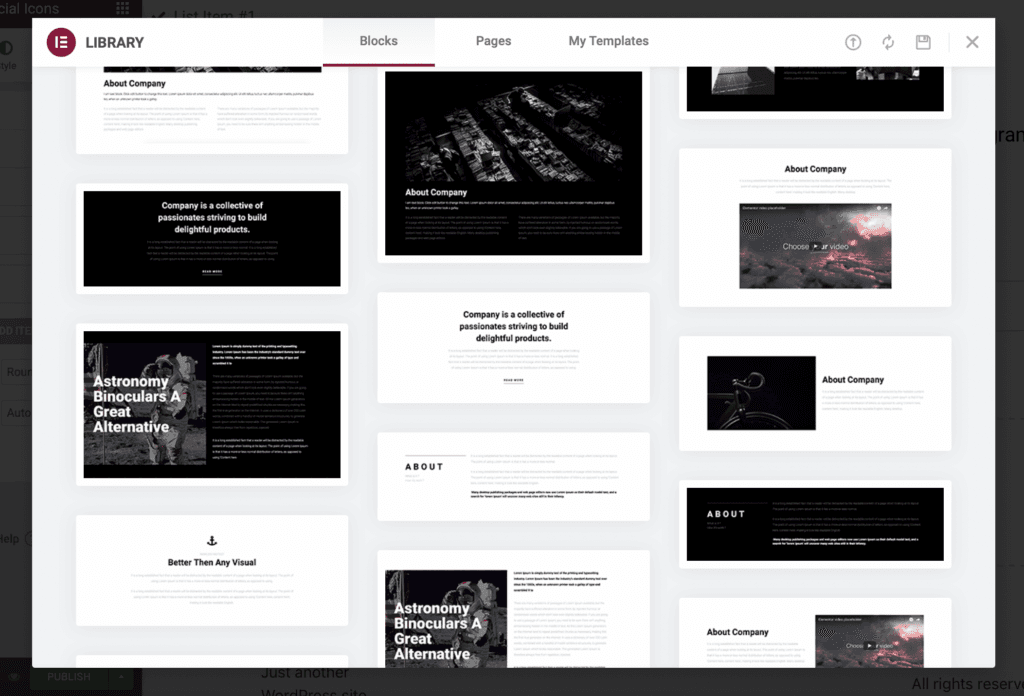 You can use the search bar to look for specific blocks or browse the list of available options. In the next section, we'll explain which blocks are most effective for an affiliate marketing landing page. Once you find an element you like, select it and click on Insert.
Step 2: Design Your Unique Affiliate Marketing Landing Page
Now that you know how to add structure to your landing page, it's time to get creative with the design. Whether you're building your page using elements or blocks, you'll have access to Content and Style tabs: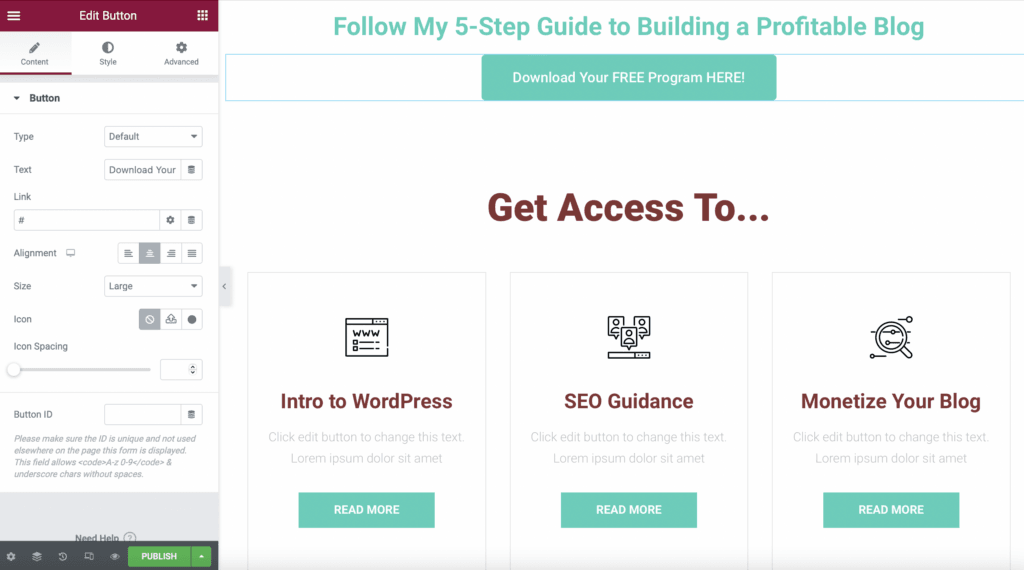 In this example, we've selected a Button widget. Under the Content tab, you can edit the text on the button, add links, and adjust the size. You can then alter the colors, background, and font in the Style tab: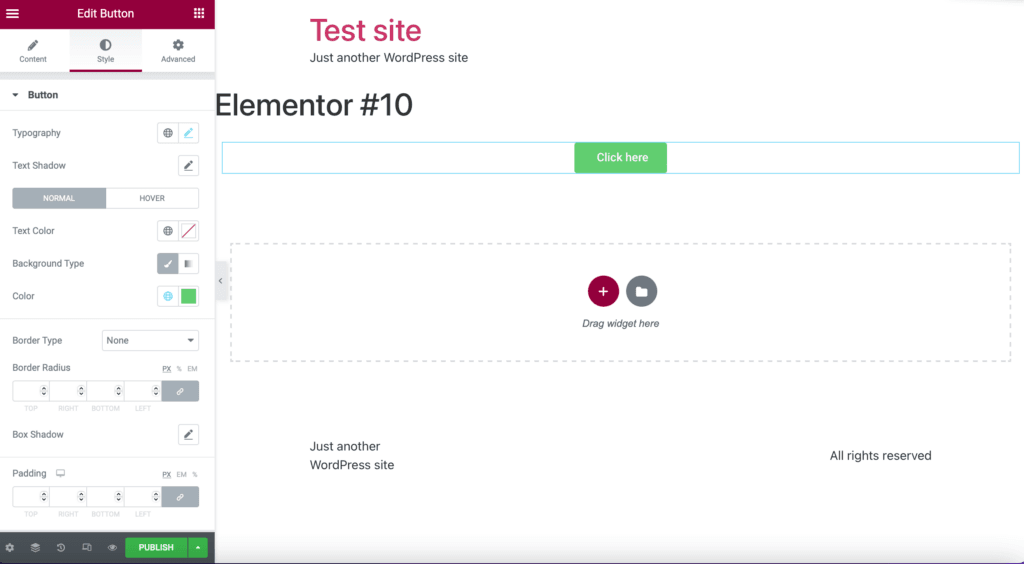 You have complete freedom when designing your affiliate marketing landing page. However, we recommend focusing on a few key features.
The hero banner is the first thing visitors see, so we'd recommend placing the most important elements here. You might consider a catchy title and a subtitle offering your benefit statement. This feature informs visitors how your affiliate products or website can add value to their lives.
Additionally, a visually-interesting button can provide an early CTA rather than waiting until your visitors scroll to the bottom of your page: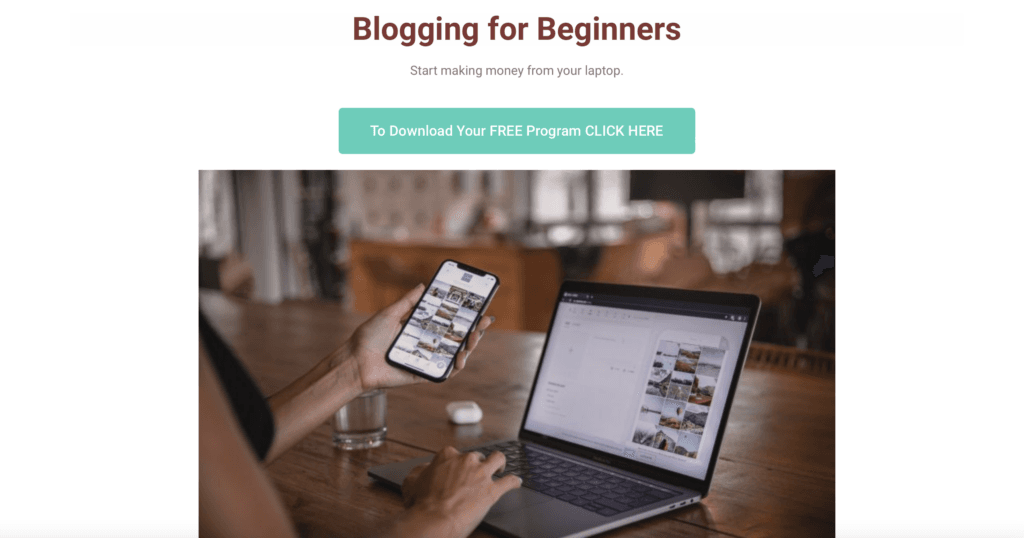 It's also worth including social proof on your landing page. It shows that your existing clients and followers are happy with their purchases, positioning you as a credible affiliate marketer. You can achieve this using blocks or manually, using the Testimonial and Social Icon widgets:
Furthermore, it's wise to repeat your CTA throughout your page for easy access. Take your time crafting a compelling CTA, and consider looking beyond buttons. Images and icons can help you include more links:

If you choose to make an AMF page, you might also want to include a contact form to collect email addresses. You can use a tool such as MetForm, a customizable form builder plugin compatible with Elementor. Then, to begin an automated email sequence, you'll just need to connect the contact form with your email marketing service.
Step 3: Preview and Publish Your Page
We recommend previewing your landing page on the front end before publishing it. This step lets you visualize your page entirely and spot any errors.
To do this, simply click on the eye icon at the bottom of the left panel and select Preview Changes: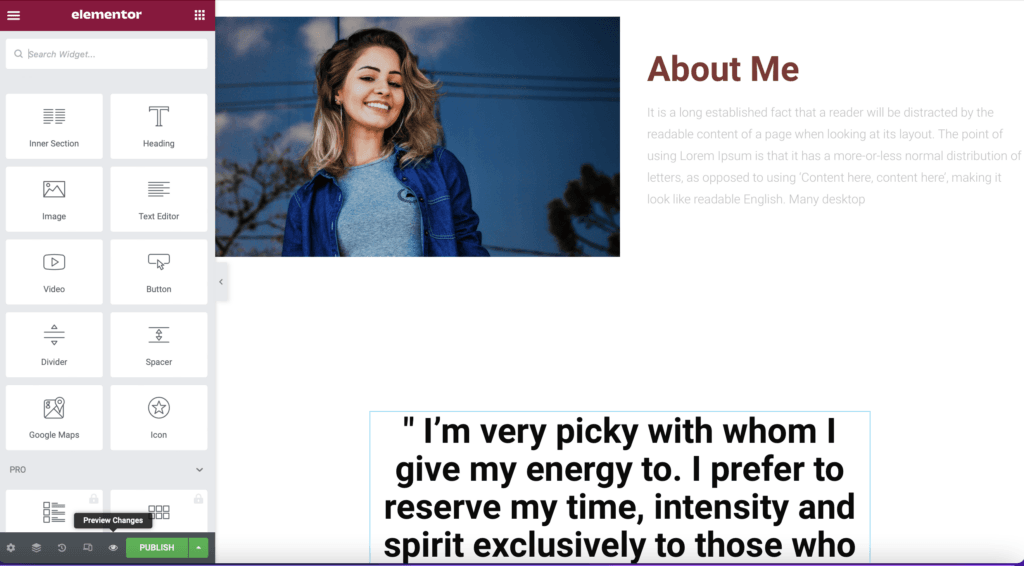 If you're happy with everything, you're ready to hit Publish. Alternatively, you can either save your page as a draft or as a template and work on it again later.
We also recommend implementing Search Engine Optimization (SEO) best practices to make your landing page more visible online. For example, you'll want to ensure your landing page has an optimized meta description, meta title, internal links, and a focus keyword.
Conclusion
With an affiliate marketing landing page, you can reach your target audience and drive more conversions with your affiliate links. This space helps create a trusting relationship between you and your audience, positioning you as a credible marketer.
To recap, here are three easy steps to create an affiliate marketing landing page:
Build your affiliate landing page using the Elementor plugin.
Design your unique landing page.
Preview and publish your finished page.
Do you have any questions about setting up an affiliate marketing landing page? Let us know in the comments section below!
If you liked this post, be sure to follow us on Twitter, Instagram, Facebook, Pinterest, and LinkedIn! And don't forget to subscribe in the box below.