SiteGround Affiliate Program Review 2022
Surely the world doesn't need more websites?
The internet must be full by now, right?
Actually, no. According to one recent survey, an astonishing one in five small businesses still don't have a website.

Of those that don't, the vast majority (86%, to be precise) plan to build one in the next few years.
To do that, each and every one of them is going to need a hosting provider.
Which brings us neatly to SiteGround, one of the biggest names in the web hosting industry. In this SiteGround affiliate program review, we're going to talk you through:
What SiteGround does
Why hosting companies are so attractive to affiliate marketers
How the SiteGround affiliate program works
What we like and dislike about it
Sounds good? Then let's dive in.
About SiteGround
Founded in Bulgaria back in 2004, SiteGround is a web hosting company that offers a range of services, including:
Shared hosting
Cloud hosting
Enterprise solutions
Email hosting
Domain registration
It's hard to find up-to-date information about just how many customers use SiteGround, but as of January 2018, it provided hosting for more than one million domains worldwide.
Meanwhile, figures from W3Techs reveal that SiteGround currently hosts just over 2% of all websites, so it's extremely well-known.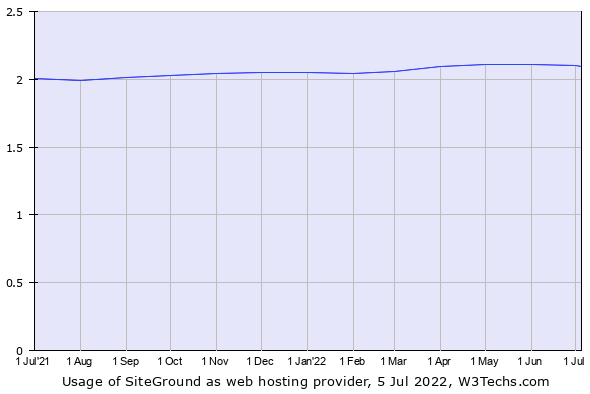 Not only that, but it has a superb level of customer satisfaction, which is always a good thing: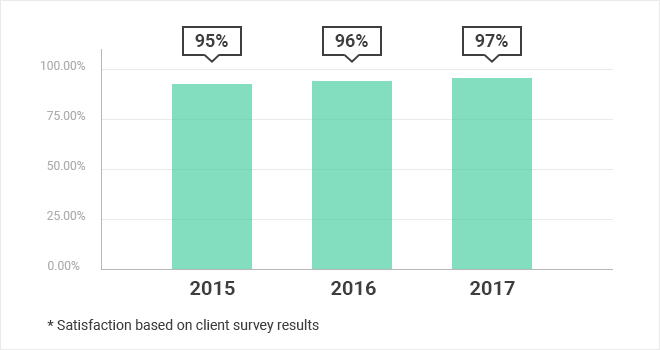 You won't be surprised to learn that a combination of excellent customer service and high levels of brand awareness are the perfect recipe for making money, with the company's estimated annual revenues currently standing at more than $66 million.
And there should be plenty of scope for SiteGround to make even more money, given that the global market for web hosting services is expected to be worth $144 billion by 2027.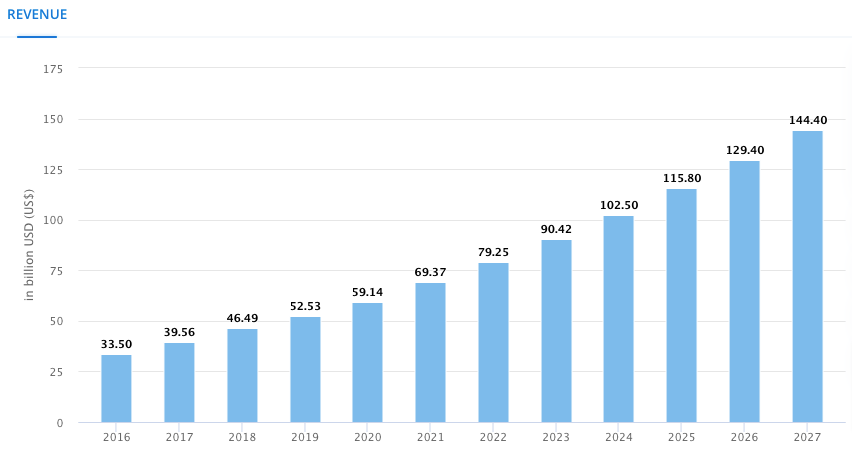 How Does SiteGround's Affiliate Program Work?
With all that money-making potential, it's easy to see why so many affiliates have been drawn to the web hosting niche.
Eager to join them? Let's take a look at what it takes to promote SiteGround:
How to Join SiteGround Affiliate Program
First up, let's talk requirements.
A lot of affiliate programs demand that affiliate marketers already have an active website with an engaged audience.
SiteGround isn't so strict. To be approved for its affiliate program, you don't necessarily need a website at all (N.B. if that's you, don't miss our guide on how to make money from affiliate marketing without a website).
It simply asks that you have some means of referring potential SiteGround customers via clicks on your affiliate link. Whether that's through email marketing, a YouTube channel, an Instagram account, or some other method is entirely up to you.
Visit the SiteGround affiliate program landing page and click the big, blue button marked "join now":
You'll be asked to provide some basic personal details — your name, address, contact, and tax information.
Next comes the slightly trickier part, where you get to tell SiteGround about the type of affiliate marketer you are: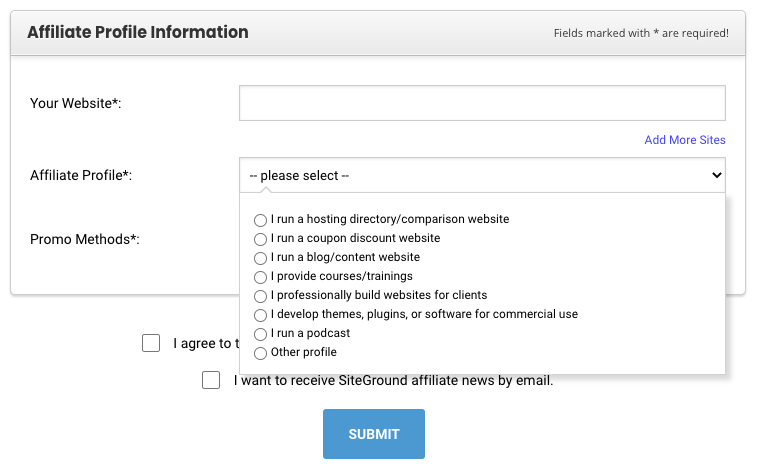 Remember I just said you don't technically need your own website to become a SiteGround affiliate? Well, you'll notice from the above screenshot that SiteGround requires you to enter some sort of URL during the application process.
So what gives?
Honestly, we're not sure. Maybe they just forgot to remove an old form field. But when I signed up, I entered Authority Hacker's address rather than my own (non-existent) website, and I still got accepted. So it doesn't feel like SiteGround looks into this too closely.
Having negotiated this step, it's time to explain how you plan to send customers SiteGround's way: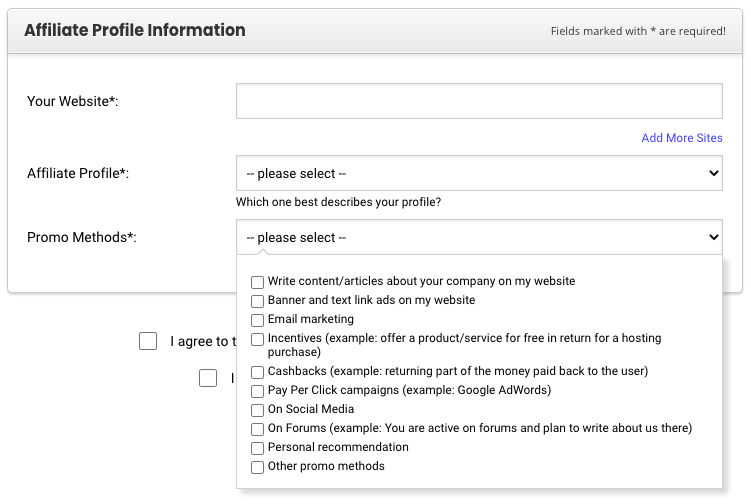 Again, don't worry about this too much. If you select "email marketing" but later segue into content writing as your primary way to promote SiteGround, you're not going to be booted from the affiliate program.
Finally, you just need to read and agree to the SiteGround affiliate program terms of service and privacy policy. And that's pretty much it!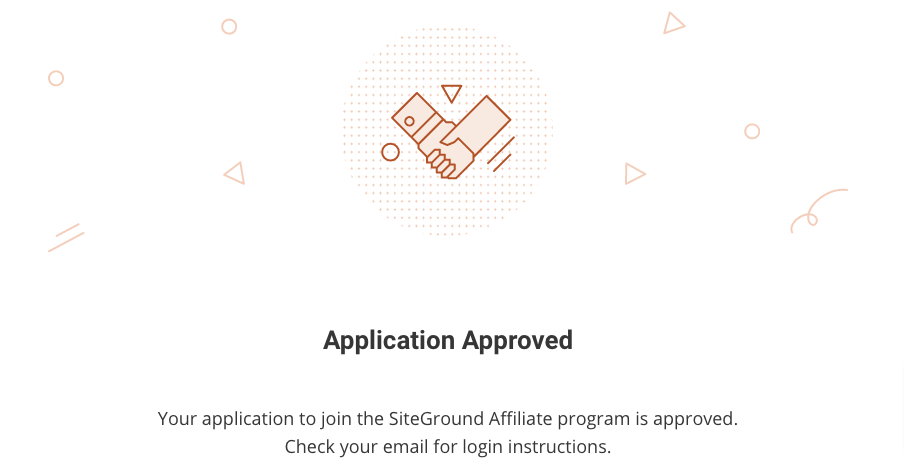 As long as you get accepted, you'll be sent an email containing your login information, plus a bunch of helpful resources designed to help you drive conversions.
Now you'll be able to access the affiliate dashboard, where you'll find stuff like the affiliate link customizer, custom link tracking, and conversion reports — basically, all the things you need to sell SiteGround's services.
What Are SiteGround's Commission Rates?
SiteGround pays a sliding commission rate that increases based on the number of sales you refer, which is an excellent way to help top-performing affiliates make more money online. It works like this:
| Monthly sales volume | Commission |
| --- | --- |
| 1 – 5 | $50 per sale |
| 6 – 10 | $75 per sale |
| 11 – 20 | $100 per sale |
| 21+ | Custom commissions |
You'll receive a commission on sales of the following services:
That means things like domain name registration don't count and won't earn you a commission.
What is the SiteGround Affiliate Program Cookie Duration?
SiteGround's affiliate program offers a 60-day tracking cookie and assigns sales on a last-click basis.
In other words, if someone clicks your custom affiliate link, lands on the SiteGround website, and makes a purchase within the next 60 days, your cookie will supersede any previous cookies from other affiliates, and you'll get the commission.
How Does SiteGround Pay Affiliates?
From its terms and conditions, it appears that SiteGround prefers to pay into your PayPal account.
If you don't have a valid PayPal account, or simply prefer a different payment method, you can choose to be paid by wire transfer instead. But be aware that the minimum possible payment amount is $5,000, so you'll need to refer a bunch of sales before you get to see your commissions.
Beyond that slight grumble, SiteGround offers an extremely short withhold period on payments.
After you make your first sale, you'll need to wait 30 – 40 days for your first payout, but from then on all other commissions are paid weekly on Wednesdays.
For instance, if you make a sale in the first week of January, you'll receive the commission about 30 days later — most likely the second Wednesday in February.
Assuming you make regular sales throughout that period, you can expect to be paid on every subsequent Wednesday following your first payout.
(N.B. if that sounds good, check out our roundup of other affiliate programs that pay weekly.)
A couple other key payment-related points:
SiteGround doesn't have a payment threshold — although, as we've already discussed, you need to earn at least $5,000 before you can be paid by wire transfer.
The customer's subscription must be active and paid up to date at the time your commission is due.
If a new customer buys a plan with a validity duration billing cycle of one month, the review period will increase to 90 days.
All pending payments can be tracked from the Payout History section of the SiteGround affiliate dashboard.
Pros & Cons of the SiteGround Hosting Affiliate Program
Looking for a TL;DR? Here are our favorite and least favorite things about the SiteGround hosting affiliate program:
SiteGround Affiliate Program Pros:
The conversion rates are high, especially if you refer high volumes of customers.
SiteGround offers a short withhold period, meaning you get paid weekly.
The cookie duration is pretty long, giving you plenty of time to close the deal.
SiteGround has an excellent reputation and strong brand awareness.
SiteGround Affiliate Program Cons:
SiteGround is in a highly competitive niche, with lots of other web hosting services to choose from.
SiteGround isn't the cheapest hosting company out there.
It offers a limited range of payment options and a high payout threshold for wire transfers.
As you can see from the screenshot below, the SiteGround affiliate program isn't available in a lot of countries, including much of the Middle East and South Asia.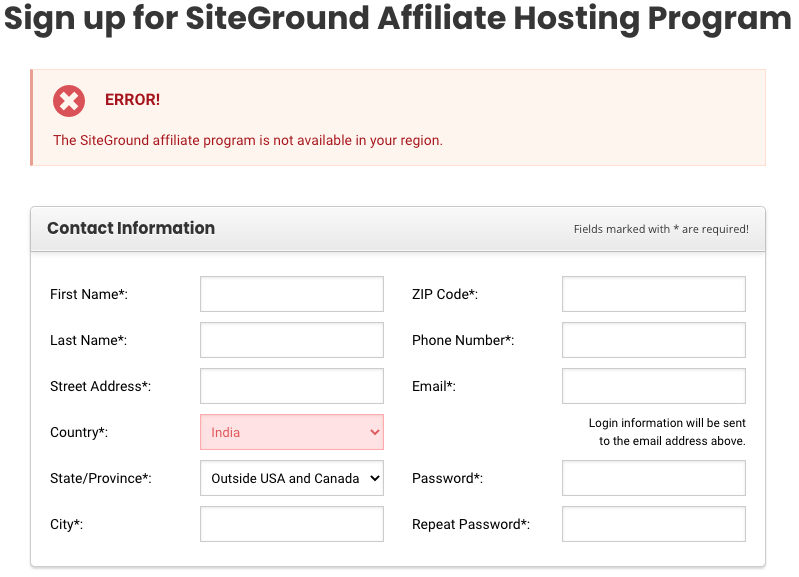 Conclusion: Is the SiteGround Affiliate Program Right For You?
Sure, SiteGround is far from the only hosting company out there.
Rivals like Bluehost and Hostinger are arguably better known, which might persuade affiliates to look elsewhere.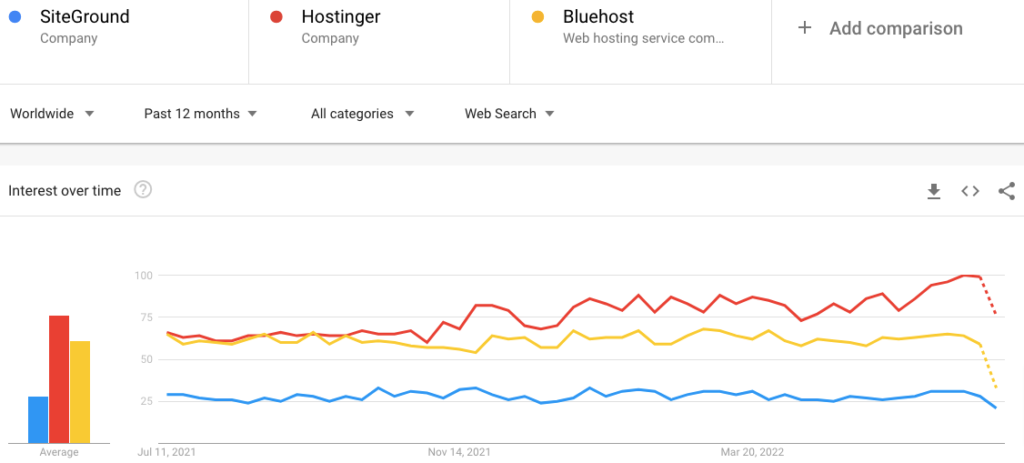 But, in our view, SiteGround is one of the best hosting affiliate programs out there thanks to its combination of high commissions, regular payments, and a strong reputation.
Of course, there are no guarantees. If you're going to make money online through the SiteGround affiliate program, it pays to have a high-visibility, high-converting affiliate website.
We can help with that. Just sign up for our free affiliate marketing training, where we'll reveal the seven secrets that make new websites 83% more successful.